A Philadelphia wedding planner prepares for her own big day amid COVID
news
Allie Beik of Polka Dot Events hopes to say "I do" at Globe Dye Works on October 30th.
With the latest on style, inspiration, helpful tips and tricks, and everything else you need to know to plan the perfect Philly wedding.
When it comes to planning a wedding, Allie Beik from Polka Dot Events has a system. She knows which comes first. She knows what steps to take, what is important and what is not. And after last year, like many other professionals in the event industry, she is able to master a great day amid the pandemic. (She's been working on roughly 35 COVID-related celebrations since March 2020.) Now she's tackling her own: The Mount Airy-based expert who got engaged to her fiancé Tim Davis Last fall is about nine months away from her own wedding, due to take place on October 30th at the Globe Dye Works in northeast Philly. The wedding will have a sustainable, local focus filled with Philly vendors and practical, environmentally friendly approaches. While COVID-19 can affect her final plan, her hope is to celebrate with about 150 of her closest friends and family. In the next few months we will share her story. Follow here.
This story is part of the ongoing Real Talk series from Philadelphia Wedding, where real Philly couples share their unique approaches to wedding planning and marriage. If you have a unique story or experience worth sharing we'd love to hear about it.
I booked the date and venue before there was a suggestion. I knew he would propose – I just didn't know when. But the longer we dated, the more I got these ideas about what I wanted to do for both of us now. Not for my wedding, but for our wedding. So I asked him if we could start planning without the ring and he said, "Sure." A few weeks later he asked the question. I loved that we had talked about it beforehand, told our families and knew clearly that we were doing it.
One of the reasons we chose Globe Dye Works is Birchtree Catering and its focus on sustainability. We want our wedding to be as sustainable as possible, and Birchtree has led this composting effort. Globe is perfect for Tim and me too because I love the industrial look and he's a civil engineer. The machinery in the room was too cool for him to do without.
When you feel a connection to a venue that extends beyond the space itself, you will be happier with small issues. A lot of people don't love Globe because you can't have everyone in the same room for dinner – you have to separate things using the dance floor and the gallery. None of this mattered to us because we had all of these reasons we loved it. Hopefully, if you keep people separate, everyone will be a little more comfortable at this point.
We hope things get back to normal by October, but we have a backup plan. It was one of the first things we talked about when we booked the appointment. Tim would rather postpone it and wait to have a big party later, and I'm fine with that. We'll make this call about three months in advance before sending out invitations. Every time we book a provider, we make sure our plan is in order – when it counts.
I would say the same thing to any couple planning now: find out what your Plan B is first. Even if you pick a date in 2023 I don't care – who knows what the world will be like then? When booking vendors, make sure they are okay with this plan. And make sure you have that pandemic or COVID clause and not just force majeure. For Tim and I, for example, our suppliers will keep their deposits, but they wouldn't take final payments until the new date, not the old one.
One of the hardest things about planning in the midst of the pandemic has been – so far – the impact on providers. Many providers have taken a break or are very slow to contact me due to the lower number of employees. I'm sure a lot of couples go through this too, so my only advice would be to stay flexible and calm. If you really want this provider it is worth the wait and they will most likely be available if they don't respond to anyone! Or if it's a provider you can live without, it's okay to go ahead and find someone.
We work with local, sustainable providers. We booked Redfield Photography. Papertini makes our flowers. We'll have candles of different sizes in the middle of the tables and a couple of columns filled with green around the room. We generally use fewer flowers. We have a hanging black grate for the ceremony with lots of green and some brightly colored flowers that Papertini will reuse and put behind the band. And I hope to work with Forget Me Knot to collect the flowers at the end of the night. [Editor's note: Forget Me Knot restyles bouquet and event blooms for patients in health-care facilities.]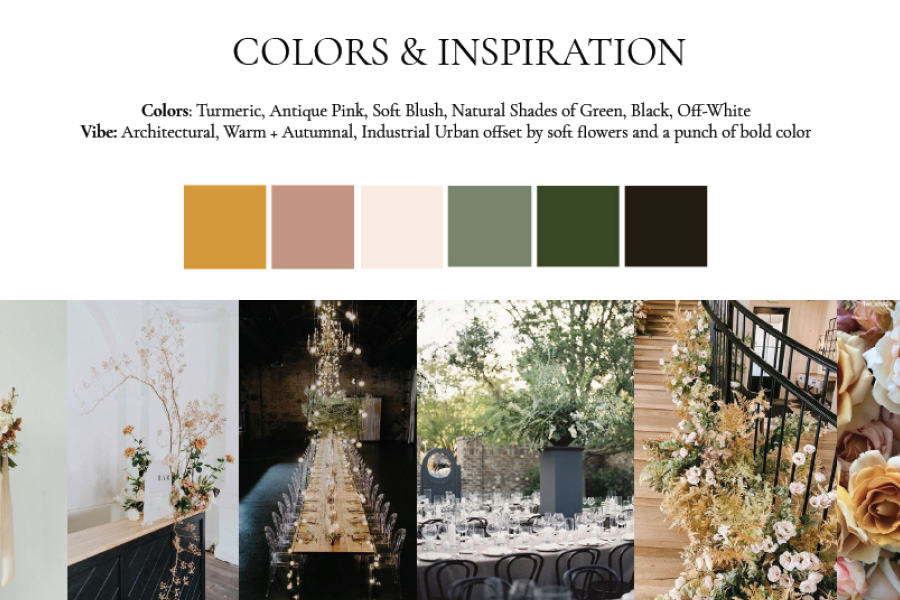 While I plan most of the work myself, I get help. My business partner Tracey Goldstein helped with the design. She also helped with the collection of rental properties. We'll have one of my Philly coordinators, Kim Paiz, running weddings here, when I can't handle the day of the day. I can't tell people to have a coordinator, not a coordinator. I know how important it is.
This story has been edited for clarity and length.
Get More Great Content From Philadelphia Wedding:
FACEBOOK | INSTAGRAM | NEWSLETTER | PINTEREST
Marry? Start and end your wedding planning journey with Philadelphia Weddings' guide to the best wedding providers in town.